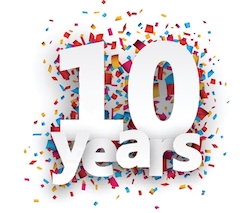 March 28th, 2018 – in the middle of Easter – was the day when WAYF had been running as a production system for ten years.
The launch on March 28th, 2008 followed years of initial efforts in multiple directions, particularly within technological development, law, and communication. Since that day, the federation has created value for its stakeholders, and seen less than one hour of downtime in its technical operation.
WAYF during this period of time has developed into one of the world's most advanced identity federations — so named by the American Ken Klingenstein, the father of the very concept of federated identity.
WAYF reaches this milestone in strong shape — in full swing developing its technical platform further, to the benefit of the federation's members.